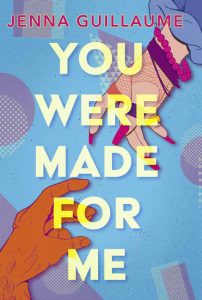 You Were Made for Me
by Jenna Guillaume
Sixteen-year-old Katie Camilleri can't believe she's accidentally created a teenage boy. What began as a clay sculpture mixed with a secret formula and a flash of lightning has turned into a boy six-feet tall with floppy hair and eyes like the sky on a clear summer's day. A boy whose lips taste like cookie dough and whose skin smells like springtime. A boy completely devoted to Katie. But silly antics with her best friend, Libby, have definitely taken a whimsical twist into something bigger than Katie could have ever daydreamed. Turns out the consequences of making the perfect guy in your kitchen are rather complicated… Will this spontaneous creation solve all of Katie's romantic problems or lead to more unintended effects? Does Guy, the golden Adonis she created, really, truly like her because he wants to or because he has to? And will Katie actually get her first kiss?
From the author of What I Like About Me (coming in paperback April 1st!) comes a hilarious and modern feminist twist on the 1985 pop cult film Weird Science, loaded with laughs, mishaps, and plenty of 80s and 90s pop-culture callbacks. Jenna Guillaume's lighthearted and thought-provoking novel is a binge-worthy read for fans of rom-coms and Jenny Han. Featuring a humorous voice and cast of diverse, relatable characters, Jenna's newest YA is the perfect book to kick off summer book clubs and reading lists.
Read an excerpt, and dive into this hilarious new rom-com.
Download a free discussion guide, perfect for spring and summer YA book clubs, and get to know author Jenna Guillaume in this Q&A!
"Plenty of early 2000s rom-com vibes and lighthearted mishaps… Guillaume's cinematic story weaves together beloved romantic comedy tropes touched with magic—or is it science?—and drops them into a fresh, contemporary setting. Despite the playful tone, this isn't without nuance, taking on serious topics such as male body image, friendship, and asexuality." —Booklist
"[Katie's] friendship with Libby is heartwarming and relatable, and her character grows throughout the story.…a quick escape of a story that emphasizes the lesson that our idea of 'perfection' isn't always what we're looking for…. Younger teens will likely enjoy Katie's shenanigans." —School Library Journal
Add some romance, comedy, and magic—or is it science?—to your reading list when You Were Made for Me arrives April 1st at your local library, indie bookstore, or Barnes & Noble. And don't forget to check out the rest of our brand-new picture books and middle grade and YA titles coming to Peachtree this season!