A new year means more new books for middle grade and YA readers! Check out the newest King & Kayla mystery, thrilling middle grade adventures, science-poetry for spider fans, a moving YA debut, and so much more! With the perfect books for readers of all ages, you won't want to miss our Spring 2021 list.
New Illustrated Chapter Book

King, Kayla, Mason, and Asia are playing in the snow. Later, Asia discovers her new gold ring is missing. What happened to it? Detective team King & Kayla are on the case! With simple, straightforward language and great verbal and visual humor, the King & Kayla series from Geisel Honor Award-winning team Dori Hillestad Butler and Nancy Meyers is perfect for introducing mysteries and the important concepts of fact gathering, list making, clues, and analytical thinking to newly independent readers.
Preorder King & Kayla and the Case of the Gold Ring today through your local bookstore, Barnes & Noble, Bookshop.org, or on Amazon.
New Middle Grade

Chaya, a nobleman's rebellious, outspoken, no-nonsense daughter, just can't resist the shiny temptations the king's palace has to offer. But playing Robin Hood for her impoverished community doesn't come without risks… After leaving her village as a thief, can Chaya return with her friends as a hero? Or will her sticky fingers be the beginning—or the end—of everything for the intrepid gang? Own Voices debut author Nizrana Farook spins an exciting, page-turning tale in a lush, vibrant, fictional Sri Lankan setting and featuring themes of friendship and loyalty, risk and reward, and heroism. A great middle grade escapist novel and readaloud!
Preorder The Girl Who Stole an Elephant today through your local bookstore, Barnes & Noble, Bookshop.org, or on Amazon.

Homing pigeon Homer and his parrot friend Lulu learn something is afoul when they witness four-legged criminals stealing valuables from both the animal and human communities. Using the sleuthing techniques he's gathered from his favorite mystery comics, Homer and Lulu track down the bandits, but need human help to stop them for good. Can they find a way to communicate with their human keepers and lead them to the culprits' hideout to stop the thieves? Award-winning author and illustrator Henry Cole delivers a fun, action-packed middle grade novel that will have every reader wishing they could join in the hunt.
Preorder Homer on the Case today through your local bookstore, Barnes & Noble, or Bookshop.org.

In the third installment of the award-winning Nina Soni series, it's Take Your Child to Work Day, and Nina, Kavita, and Jay are all going to work with Mom, a landscape architect, to learn how to start a garden. Naturally that's not enough for Nina, who quickly develops big plans for a business selling the vegetables she plans to grow. But her plans don't include managing the problems that inevitably arise, including rabbits, slugs, mosquitos, and more! Readers are sure to relate to Sheth's endearing Nina Soni, her family and friends, and her slightly scatter-brained efforts to manage her life with lists, definitions, and real-life math problems. A great read for STEAM enthusiasts!
Preorder Nina Soni, Master of the Garden today through your local bookstore, Barnes & Noble, Bookshop.org, or on Amazon.

Award-winning poet Leslie Bulion and illustrator Robert Meganck are back with a humorous exploration of the silk-spinning, bungee-jumping, hunting, trapping, trick-filled world of spiders! This clutter (a collective noun for spiders) of Haiku and other short science poems and humorously accurate illustrations is packed with helpful sidebars, call-outs, and backmatter, including a glossary of science terms, notes about the poetic forms, a list of common and scientific names, a spider-hunting adventure how-to, resources for further study, and a relative-size chart. A feast for science and animal fans and a bonanza for teachers and students interested in cross-curricular studies!
Preorder Spi-Ku: A Clutter of Short Verse on Eight Legs today through your local bookstore, Barnes & Noble, Bookshop.org, or on Amazon.
New YA

"They can't send you away. What will we do? We need us. I stop your angry, Jack. And you make me strong. You make me Rosie."
Rosie loves Jack. Jack loves Rosie. So when they're separated, Rosie will do anything to find the boy who makes the sun shine in her head. Even though people might think a girl like Rosie, who has Down syndrome, could never survive on her own. Introducing a strong and determined protagonist, debut author Mel Darbon gives readers an underrepresented but much-needed point of view with a voice-driven, heartfelt story of fighting for little freedoms, tolerance, and love and finding your place an often big and intimidating world.
Preorder Rosie Loves Jack today through your local bookstore, Barnes & Noble, Bookshop.org, or on Amazon.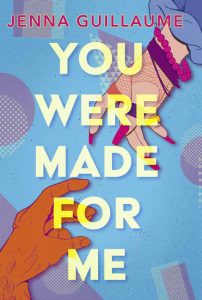 Sixteen-year-old Katie Camilleri can't believe she's accidentally created a teenage boy. A boy completely devoted to Katie. But it turns out the consequences of fumbling a human being into existence are rather complicated. More importantly, does Guy, the golden Adonis Katie's created, like her because he wants to, or because he has to? And will he be Katie's very first kiss? From the author of What I Like About Me comes a hilarious and modern twist on a classic narrative, loaded with laughs, mishaps, and plenty of 80s and 90s pop-culture callbacks. Jenna Guillaume's entertaining romantic comedy novel features a humorous and relatable voice and will appeal to fans of Jenny Han.
Preorder You Were Made for Me today through your local bookstore, Barnes & Noble, Bookshop.org, or on Amazon.