Fall is just about here! We're so excited to be introducing all the wonderful new books we have coming out this season, including the first book from the Margaret Quinlin imprint, an introduction to some predators that will give the T-Rex a run for his money, some beautiful fantasy and across our middle grade group, and a few additions to beloved series. Happy reading to everyone!
The Polar Bear in the Garden
by Richard Jones
With exquisite skill and compassion, Richard Jones has crafted a profoundly moving story with tender illustrations and themes that will resonate with anyone who has loved and had to let go.
About Waterfowl: A Guide for Children
by Cathryn Sill
illustrated by John Sill
In this addition to the About… series, award-winning author Cathryn Sill uses simple, easy-to-understand language to teach children what waterfowl are, where they live, what they eat, and how they move. John Sill's detailed, full-color illustrations show the characteristics of different types of waterfowl—from the Trumpeter Swans of northwestern North America to the Bar-headed Geese of central Asia.
Wombat Said Come In
by Carmen Agra Deedy
illustrated by Brian Lies
A kindhearted wombat offers refuge to a parade of animal friends during an Australian bushfire in a delightful new picture book from New York Times best-selling creators Carmen Agra Deedy and Brian Lies. The first book from the brand-new Margaret Quinlin Books imprint!
The Littlest Elephant
by Kate Read
Adorable jungle animals explore kindness and the importance of respecting others in this playful and energetic romp from Kate Read, creator of reader-favorite One Fox: A Counting Book Thriller.
Bioblitz!
by Susan Edwards Richmond
illustrated by Stephanie Fizer Coleman
A young boy and his cousin compete to identify the most different species on a biodiversity count day at a local park. After reading Bioblitz!, students—as well as their parents and teachers—will be eager to participate in a biodiversity day in their own community!
Logan's Greenhouse
by JaNay Brown-Wood
illustrated by Samara Hardy
Logan searches for carrots in his wheelchair-accessible greenhouse in this vibrant exploration of gardening and healthy eating, from the Where in the Garden? picture book series. Back matter includes a delicious winter carrot soup recipe for little chefs and their adult helpers to try together.
Mega-Predators of the Past
by Melissa Stewart
illustrated by Howard Gray
Award-winning nonfiction author and science specialist Melissa Stewart offers young readers a mega-exploration of little-known prehistoric predators that rival even the mightiest of dinosaurs!
Wibble Wobble BOOM!
by Mary Ann Rodman
illustrated by Holly Sterling
In this humorous tale of expectation meets reality, Claire discovers beautiful performances require lots of skill, and it's going to take many small failures and perseverance if she wants to skate like a pro.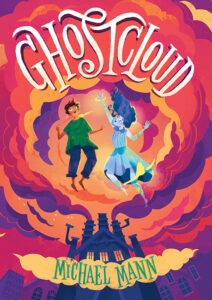 Ghostcloud
by Michael Mann
Kidnapped and forced to shovel coal underground, in a half-bombed power station, 12-year-old Luke Smith-Sharma keeps his head down and hopes he can earn his freedom from the evil Tabitha Margate. Then one day he discovers he can see things that others can't. Ghostly things. A ghostly girl named Alma, who can bend the shape of clouds to her will and rides them through the night sky. With Alma's help, Luke discovers his own innate powers and uncovers the terrible truth of why Tabatha is kidnapping children and forcing them to shovel coal.
The Trouble with Robots
by Michelle Mohrweis
Eighth-graders Evelyn and Allie are in trouble. Evelyn's constant need for perfection has blown some fuses among her robotics teammates, and she's worried nobody's taking the upcoming competition seriously. Allie is new to school, and she's had a history of short-circuiting on teachers and other kids. So when Allie is assigned to the robotics team as a last resort, all Evelyn can see is just another wrench in the works!
Nina Soni, Snow Spy
by Kashmira Sheth
illustrated by Jenn Kocsmiersky
A long weekend and lots of snow sounds like a recipe for super-special fun to Nina. Best friend Jay is going skiing with his cousins, which is a little disappointing, but some family friends are going to visit and they've got two kids right about the ages of Nina and little sister Kavita. When Nina notices a strange car stopping at the house of neighbors she knows are out of town, she decides that it's time to be a Snow Spy.
Snow Foal
by Susanna Bailey
When eleven-year-old Addie goes to stay with a foster family on a remote Exmoor farm in the midst of a very cold winter, she is full of hurt, anger and a deep mistrust of everyone around her. But when she rescues a tiny wild foal from the moorland snow, Addie discovers that perhaps she's not so alone after all.