If you're excited for the brand-new titles heading to Peachtree this season, just wait until you see all the incredible picture book, middle grade, and YA favorites returning to bookshelves in paperback in Spring 2022! Settle in for an adorable animal-filled magic show, go on a daring adventure with a nineteenth-century female explorer and author, crack a case with a mystery-solving pigeon, cook up the perfect guy in a kitchen, and more!
Hat Tricks
by Satoshi Kitamura
Abracadabra, katakurico! Oh, goodness! Out pops a cat from Hattie's magic hat. Can you guess what creature will appear from the magic hat next? From renowned author and illustrator Satoshi Kitamura, follow along as Hattie the rabbit conjures up a parade of animals from her magic hat in this highly interactive story that's perfect for toddler and preschool storytimes and a great pairing for magic-themed activities and animal units.
The King of Little Things
by Bil Lepp
illustrated by David T. Wenzel
In a world of vast kingdoms lives a king who is happy and content to reign over all things small. Not so King Normous. He wants to be Ruler of All the World. After having erased every empire and raided every realm, Normous is enraged to learn that the King of Little Things still rules over his tiny kingdom. He sends his army to defeat this upstart, but he finds he cannot outfight or outwit a king who holds sway over the small things of the world. After all, it is the small things that keep the big things going.
Lali's Feather
by Farhana Zia
illustrated by Stephanie Fizer Coleman
Lali finds a little feather in the field. Who might it belong to? Lali sets out to find the feather a home, but one bird after another rejects it. The feather is too small for Rooster, too slow for Crow, and too plain for Peacock. That is until Lali decides to keep the little feather and discovers all the things she can do with it, and the other birds begin to recognize its value. A vivacious and endearing story of identification featuring an inventive circular structure that reveals the importance of looking beyond first impressions.
Away with Words
The Daring and True Story of Explorer Isabella Bird
by Lori Mortensen
illustrated by Kristy Caldwell
An inspirational picture book biography for readers seeking adventure-filled girl power stories. Perfect for Women's History Month!
"Isabella Bird was like a wild vine stuck in a too-small pot. She needed more room. She had to get out. She had to explore."
Exploring was easier said than done in Victorian England. But Isabella persisted, and with each journey, she breathed in new ways to see and describe everything around her. Question by question, word by word, Isabella bloomed. First, out in the English countryside. Then, off to America and Canada. And eventually, around the world, to Africa, Asia, Australia, and more. Inspirational for readers seeking adventure-filled girl power stories, this dashing picture book biography is perfect for Women's History Month.
The Last Dance
by Carmen Agra Deedy
illustrated by Debrah Santini
Bessie and Ninny are the best of friends. Sometimes on milk-moon nights, they visit the grave of Ninny's grandfather, Oppa. It was Oppa who taught them three things that they will never forget: to dance, to sing, and to tell stories. Oppa's wisdom ultimately inspires a pact between the two young friends—a pact that binds them together through love and marriage, war and separation, birth and death. In this simple but extraordinary story, New York Times best-selling author Carmen Agra Deedy speaks to readers about the value of promises and the limitless power of love.
The Girl Who Stole an Elephant
by Nizrana Farook
Rebellious Chaya just can't resist the shiny temptations the king's palace has to offer. But playing Robin Hood for her impoverished community doesn't come without risks, and when Chaya steals the queen's jewels from a bedside table—a messy getaway jeopardizes the life of a close friend. When an equally haphazard prison break sends Chaya and her companions on a thrilling adventure, will Chaya be able to return a hero after leaving her village as a thief? Or will Chaya's sticky fingers be the beginning—or the end—of everything for the intrepid gang?
Homer on the Case
by Henry Cole
Homing pigeon Homer and his parrot friend Lulu learn something is afoul when they witness four-legged criminals stealing valuables from both the animal and human communities. Lulu and Homer track down the bandits, but need human help to stop them for good. Can they lead their human keepers to the culprits' hideout and stop the thieves? Award-winning author-illustrator Henry Cole (A Nest for Celeste) offers a fun, action-packed middle grade mystery that will keep readers guessing if the crime-solving pigeon will get his guy.
Rosie Loves Jack
by Mel Darbon
Rosie loves Jack. Jack loves Rosie. So when they're separated, Rosie will do anything to find the boy who makes the sun shine in her head. Even run away from home. Even struggle across London and travel to Brighton, though the trains are cancelled and the snow is falling. Even though people might think a girl like Rosie could never survive on her own. Featuring a strong and determined teen protagonist with Down syndrome, Rosie Loves Jack is a voice-driven, heartfelt story of finding your place in a world that often leaves no room for outsiders.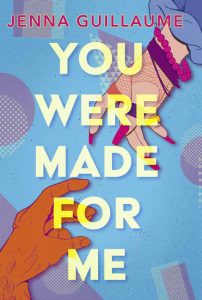 You Were Made for Me
by Jenna Guillaume
All 15-year-old Katie Camilleri wants is the perfect first kiss from the perfect guy. So when she and her best friend Libby accidentally cook up a "perfect guy" in the kitchen, things are looking up for Katie and her plan to lose her mouth virginity. But it turns out spontaneously creating a human being (who resembles a golden god) is slightly more complicated than Katie could have anticipated. Will her friendship with Libby survive the test? And will Katie EVER get her first kiss?!