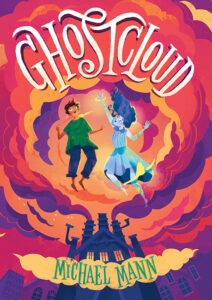 Ghostcloud
by Michael Mann
Kidnapped and forced to shovel coal underground, in a half-bombed power station, 12-year-old Luke Smith-Sharma keeps his head down and hopes he can earn his freedom from the evil Tabitha Margate. Then one day he discovers he can see things that others can't. Ghostly things. 
A ghostly girl named Alma, who can bend the shape of clouds to her will and rides them through the night sky. With Alma's help, Luke discovers his own innate powers and uncovers the terrible truth of why Tabatha is kidnapping children and forcing them to shovel coal. Desperate to escape, Luke teams up with Alma, his best friend Ravi, and new girl Jess. 
Can Luke and his friends get away before they each become victims to a cruel and sinister scheme?
Debut author Michael Mann delivers a wildly imaginative middle grade fantasy set in a smoke-stained world that's sure to entertain readers who are eager for an adventure with paranormal superpowers.
★ "Charles Dickens, Philip Pullman's His Dark Materials, and Neil Gaiman's The Graveyard Book rolled into one. Mann creates empathy for Luke, who shows clear hope and compassion for others during this evil time. The quick-witted humor and fast pace keep the entertainment factor high. Thrilling."—Kirkus Reviews
★ "Smartly wrought worldbuilding aptly engages with themes of identity and equity while conjuring an atmospherically gritty London that's at once singularly inventive and reminiscent of works by Joan Aiken, Charles Dickens, and Philip Pullman. It's a thoughtful and well-built fantasy that's also rollicking good fun."—Publishers Weekly
Find Ghostcloud this September at your local library, indie bookstore, or Barnes & Noble!